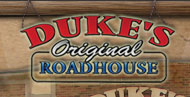 Our August 2008 DHH event will be held on August 23rd, 2008 at 8pm until 2:00 AM.
Duke Original Road House
2250 Airport Freeway
Bedford, Texas 76022
817-354-1002
http://www.dukesoriginalroadhouse.com/contact-bedford.html
For this event, Duke Orginial Road House requests that we all wear causal dress. Please no tank-tops, and/or inproper attire.
Update on DHH:
We are currently working with a new committee and will have formal meeting on how we would like to change the dhh name into DPHH or will keep the orginial one.
We will let you know the vote results soon as possible after we have a meeting on each 2nd saturday of each month.
If there any suggestion or anything (such as ideas) that you would like to share, we would love to hear your ideas! Please contact one of our newest committee or send a comment(s) to the host at host@dhhdfw.com
Extra Informations:
—Next DHH will be on September 27th TBD, please keep an eye for the new updates!

—We know that many of you enjoyed looking at photos at our website! To view the gallery, click on http://www.dhhdfw.com/gallery/
—Any question or comment, please email us at host@dhhdfw.com.
Please do not forget to tip and/or pay your tabs properly before leaving bars! Drive Responsible!