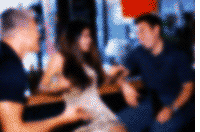 Deaf Happy Hour (DHH) is a social organization to bring together deaf people from all walks of life. DHH-DFW is a newly formed chapter to bring a sense of unity and networking to the Deaf Community of Dallas-Fort Worth Metro. DHH-DFW is held on the variety Saturday of each month at pre-selected venues to network and socialize. Everyone, including hearing friends and other students, are encouraged to come and join in the fun!
NOTE: You must be at least 21 years of age and have proper identification.
** No children allowed**
We know that many of you enjoyed looking photos at our website. We are not doing photography this year but if you bring your own camera and want to share it with us on DHH website, we will be more than happy to post it on gallery.
Remember we host DHH once a month Any question or comment, please email us at host@dhhdfw.com — please do not forget to tip and/or paid your tickets!! Please take care of your bills.
Please drink responsibly. Drive responsibly. Live responsibly.